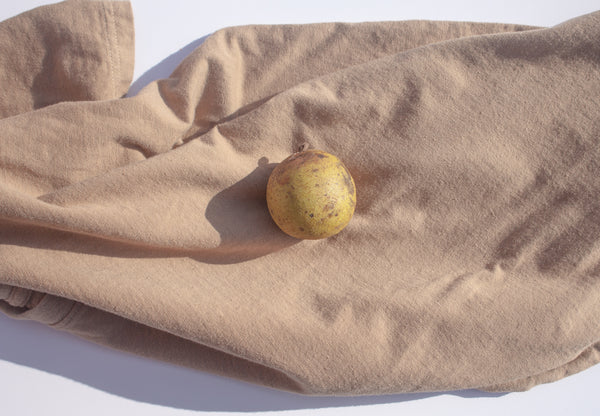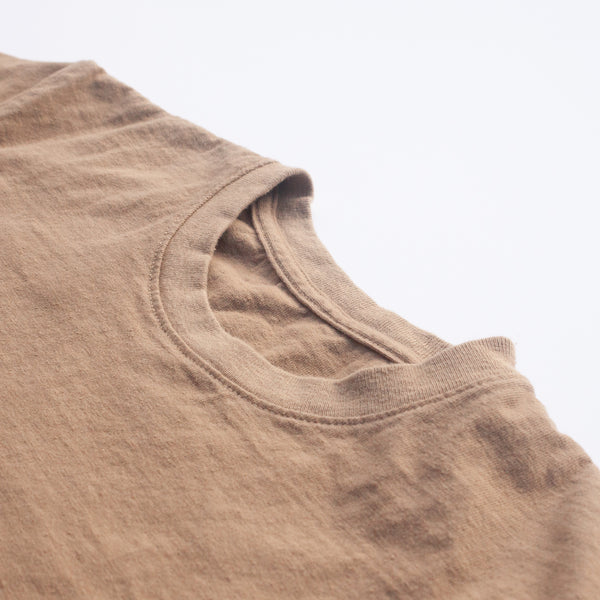 Shirts made with the 2022 black walnut harvest are almost all gone! Shirts made from the 2023 harvest will be available in all sizes mid-fall.
We made the beautiful soft brown of this shirt from locally-foraged black walnuts, the fruit of a tree native to the Eastern United States. Added to a meticulously crafted t-shirt made from North Carolina cotton, it's piece of clothing intimately connected to land we live on.

We collected hundreds of pounds of walnuts that fell from large, old trees near the homes of our CEO Eric Henry and cotton farmer Andrew Burleson. Then Burlington Beer Works, a local brewery, cooked up the walnuts to create dye, and we dyed shirts with it a mile down the road at TS Designs' dyehouse. It's color created ground to garment in about 48 hours.
A portion of the proceeds from every sale will support our nonprofit partner Croatan Institute's Canopy Community, to enhance their mission to create an equitable world where finance supports flourishing communities, vibrant places, and resilient economies.
Classic, tailored fit
Unisex style
100% ringspun cotton grown in North Carolina
5.5 oz
Garment dyed with locally-foraged black walnuts

Made in North Carolina and South Carolina, USA
QR code allows you to track every step of your shirt's making
Click here for sizing information.
T-Shirt Sizing
All Solid State shirts are at least 99% preshrunk, so our shirts will fit closer to spec every time. The tolerance for each measurement below is only ± ¾"
Fit M (Men's/Unisex) - Short Sleeve

| | Width | Length |
| --- | --- | --- |
| S | 18 ½" | 26 ½" |
| M | 20" | 27 ½" |
| L | 22" | 28 ½" |
| XL | 24" | 29 ½" |
| XXL | 26" | 30 ½" |
Fit M (Men's/Unisex) - Long Sleeve

| | Width | Length | Sleeve |
| --- | --- | --- | --- |
| S | 18 ½" | 26 ½" | 24 ½" |
| M | 20" | 27 ½" | 24 ⅞" |
| L | 22" | 28 ½" | 25 ¼" |
| XL | 24" | 29 ½" | 25 ⅝" |
| XXL | 26" | 30 ½" | 26" |
Fit F (Women's) - Short Sleeve

| | Width | Length |
| --- | --- | --- |
| S | 18" | 25 ⅝" |
| M | 19" | 26 ¼" |
| L | 20 ½" | 26 ⅞" |
| XL | 21 ½" | 27 ½" |
| XXL | 22 ½" | 28 ⅛" |