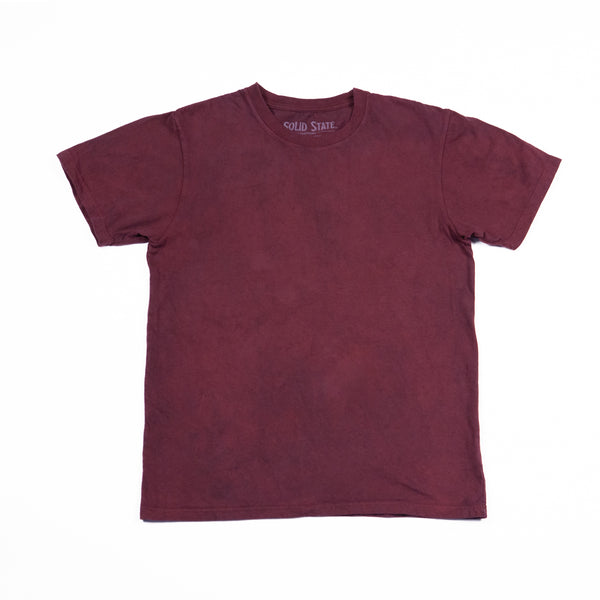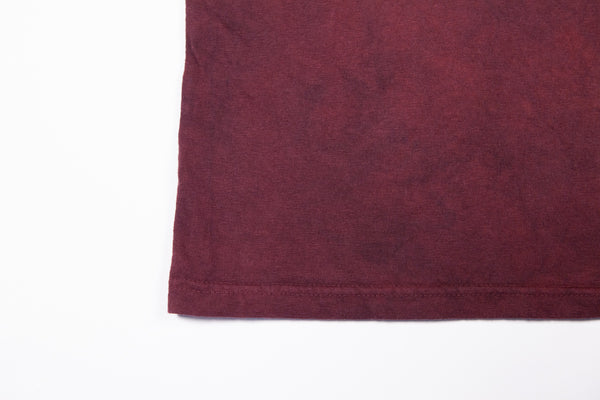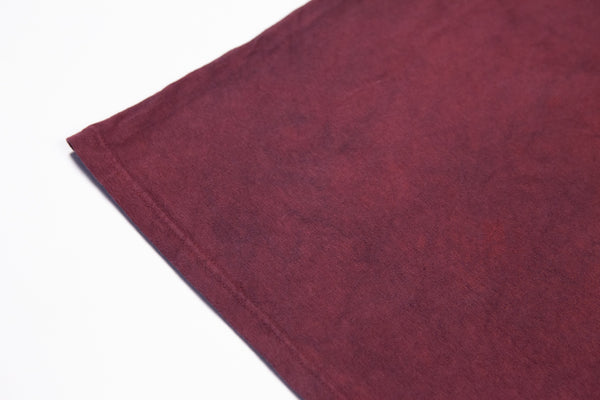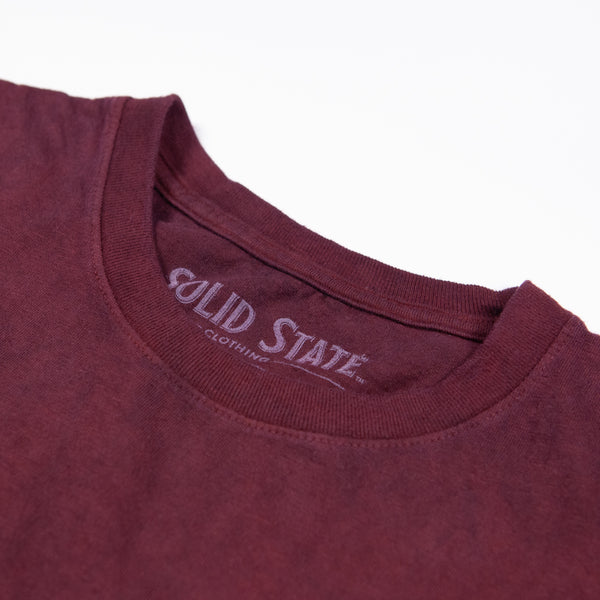 Bold natural color on a classic crewneck t-shirt made in the USA from 100% North Carolina cotton. This deep color comes from madder root, a source of red dye prized for it's bold color for over 2,000 years. Cabernet is a deeper, marbled variation on our solid Port color. Subtle texture in the color gives this incredibly bold plant-based a little extra edge.

Classic, tailored fit
Unisex crewneck style
100% ringspun cotton grown in North Carolina
5.5 oz
Naturally dyed with madder root
Garment dyed and pre-shrunk
Made in North Carolina and South Carolina, USA
QR code allows you to track every step of your shirt's making
Click here for sizing information.
About the North Carolina Cotton T-Shirt

The North Carolina Cotton T-shirt is a super-soft, long lasting, and meticulously constructed classic shirt you'll want to wear every day. But this shirt isn't just about exceptional quality; it's about celebrating the uniqueness of our state and textile history.

First, we sourced cotton directly from the fields of third-generation farmer Andrew Burleson in New London, NC. We then had that cotton made into shirts in North and South Carolina—within a 250-mile radius of Solid State Clothing's home in Burlington, NC. A unique QR code label on each shirt even lets you track the making, from dirt to shirt, by providing information on each business involved in the process.
Note: Naturally dyed clothing may fade faster than synthetically dyed clothing. We recommend washing with a mild detergent by hand or on the delicate setting of your washing machine.
T-Shirt Sizing
All Solid State shirts are at least 99% preshrunk, so our shirts will fit closer to spec every time. The tolerance for each measurement below is only ± ¾"
Fit M (Men's/Unisex) - Short Sleeve

| | Width | Length |
| --- | --- | --- |
| S | 18 ½" | 26 ½" |
| M | 20" | 27 ½" |
| L | 22" | 28 ½" |
| XL | 24" | 29 ½" |
| XXL | 26" | 30 ½" |
Fit M (Men's/Unisex) - Long Sleeve

| | Width | Length | Sleeve |
| --- | --- | --- | --- |
| S | 18 ½" | 26 ½" | 24 ½" |
| M | 20" | 27 ½" | 24 ⅞" |
| L | 22" | 28 ½" | 25 ¼" |
| XL | 24" | 29 ½" | 25 ⅝" |
| XXL | 26" | 30 ½" | 26" |
Fit F (Women's) - Short Sleeve

| | Width | Length |
| --- | --- | --- |
| S | 18" | 25 ⅝" |
| M | 19" | 26 ¼" |
| L | 20 ½" | 26 ⅞" |
| XL | 21 ½" | 27 ½" |
| XXL | 22 ½" | 28 ⅛" |