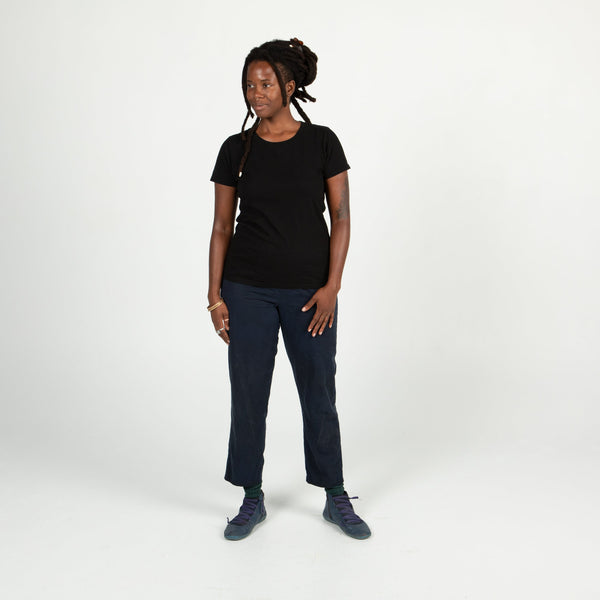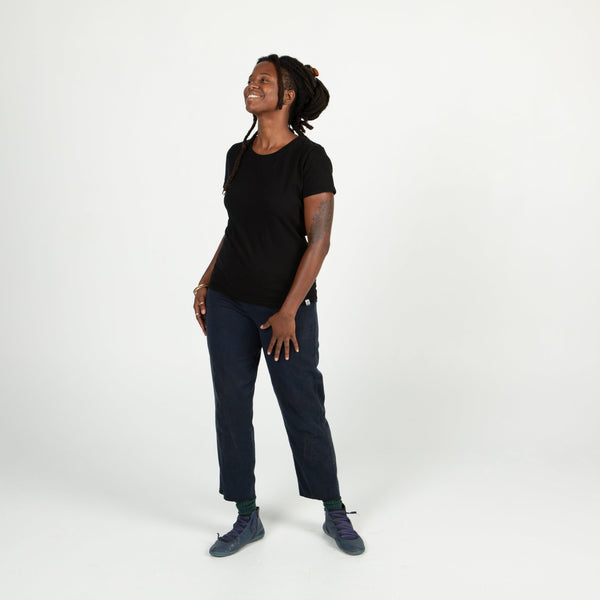 Our meticulously made t-shirt, dyed twice to a deep, true black color.

Slight scoop neck; slightly fitted shape
100% ringspun cotton grown in the USA
Medium weight
Garment dyed and fully pre-shrunk
Made in North Carolina and South Carolina


ABOUT THE OVERDYED COLLECTION
A key part of our sustainability mission is reducing textile waste. That's why we've created The Overdyed Collection. When you put as much work into meticulously crafting clothing as we do, you don't like to see anything go to waste. At Solid State Clothing, we're constantly experimenting with new dye materials and techniques, and we don't always come out with a color we're super excited about. These shirts are still first-quality in every other way, so we dye them a second time.
These shirts are dyed True Black—an intense, inky counterpart to the vintage, lived-in look of our Soft Black.
T-Shirt Sizing
All Solid State shirts are at least 99% preshrunk, so our shirts will fit closer to spec every time. The tolerance for each measurement below is only ± ¾"
Fit M (Men's/Unisex) - Short Sleeve

| | Width | Length |
| --- | --- | --- |
| S | 18 ½" | 26 ½" |
| M | 20" | 27 ½" |
| L | 22" | 28 ½" |
| XL | 24" | 29 ½" |
| XXL | 26" | 30 ½" |
Fit M (Men's/Unisex) - Long Sleeve

| | Width | Length | Sleeve |
| --- | --- | --- | --- |
| S | 18 ½" | 26 ½" | 24 ½" |
| M | 20" | 27 ½" | 24 ⅞" |
| L | 22" | 28 ½" | 25 ¼" |
| XL | 24" | 29 ½" | 25 ⅝" |
| XXL | 26" | 30 ½" | 26" |
Fit F (Women's) - Short Sleeve

| | Width | Length |
| --- | --- | --- |
| S | 18" | 25 ⅝" |
| M | 19" | 26 ¼" |
| L | 20 ½" | 26 ⅞" |
| XL | 21 ½" | 27 ½" |
| XXL | 22 ½" | 28 ⅛" |