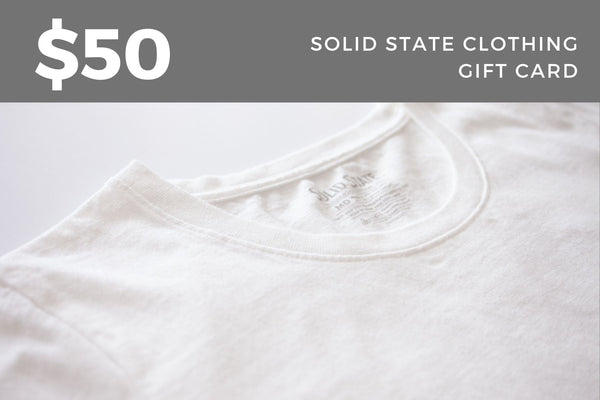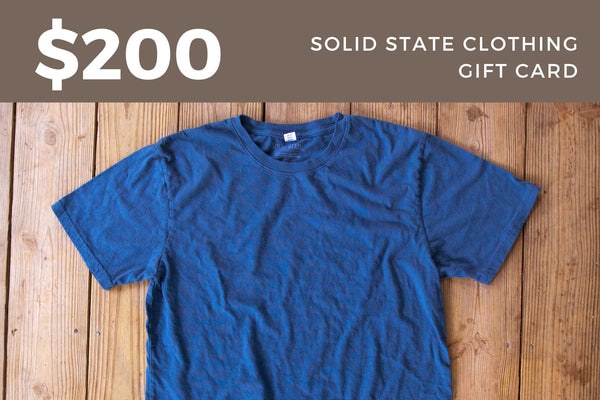 Shopping for someone else, but not sure what size or color to get? Let them choose the perfect shirt with a Solid State Clothing Gift Card.

Gift cards are delivered by email to the purchaser and contain instructions to redeem them at checkout. Our gift cards have no additional processing fees.
Gift cards may be redeemed at solidstate.clothing for goods not exceeding the remaining credit balance on this card. Valid for two (2) years from the date of issue. For gift card balance, terms and expiration date, contact hello@solidstate.clothing.

T-Shirt Sizing
All Solid State shirts are at least 99% preshrunk, so our shirts will fit closer to spec every time. The tolerance for each measurement below is only ± ¾"
Fit M (Men's/Unisex) - Short Sleeve

| | Width | Length |
| --- | --- | --- |
| S | 18 ½" | 26 ½" |
| M | 20" | 27 ½" |
| L | 22" | 28 ½" |
| XL | 24" | 29 ½" |
| XXL | 26" | 30 ½" |
Fit M (Men's/Unisex) - Long Sleeve

| | Width | Length | Sleeve |
| --- | --- | --- | --- |
| S | 18 ½" | 26 ½" | 24 ½" |
| M | 20" | 27 ½" | 24 ⅞" |
| L | 22" | 28 ½" | 25 ¼" |
| XL | 24" | 29 ½" | 25 ⅝" |
| XXL | 26" | 30 ½" | 26" |
Fit F (Women's) - Short Sleeve

| | Width | Length |
| --- | --- | --- |
| S | 18" | 25 ⅝" |
| M | 19" | 26 ¼" |
| L | 20 ½" | 26 ⅞" |
| XL | 21 ½" | 27 ½" |
| XXL | 22 ½" | 28 ⅛" |