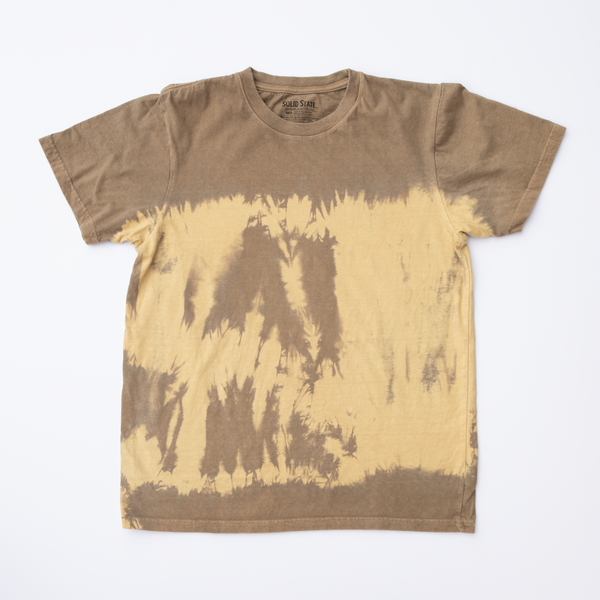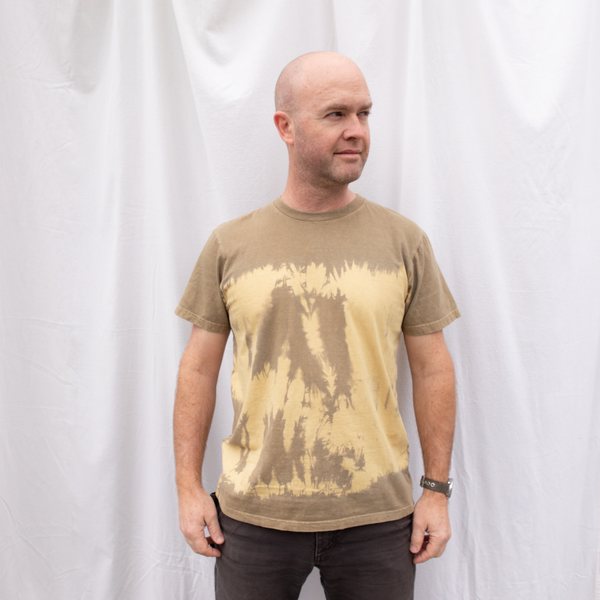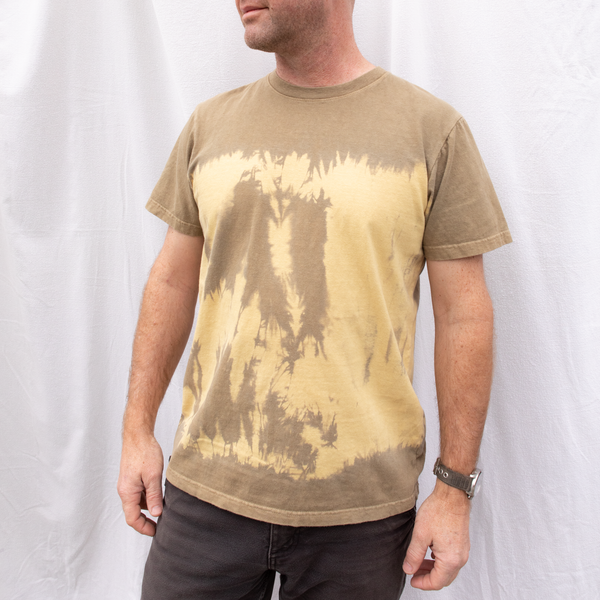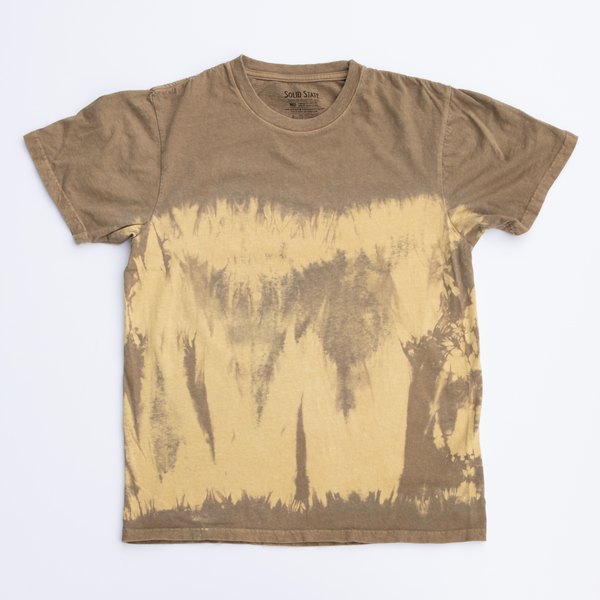 This limited edition of the North Carolina Cotton T-Shirt was naturally dyed in Burlington, North Carolina with pomegranate rind extract and iron. A unique tie dye technique created patterns in light mustard and an earthy greenish brown that make us think of the organic movement and colors of a riverbed.

Each shirt was individually hand tied, so the pattern on each is truly one-of-a-kind. The exact patterning and color coverage of shirt you receive will vary slightly from those pictured. We hope you enjoy the serendipity behind these shirts much as we do.

Men's style: Classic, tailored fit
Women's style: Slight scoop neck; slightly fitted shape

100% ringspun cotton grown in North Carolina
5.5 oz
Garment dyed and pre-shrunk

Made in North Carolina and South Carolina, USA
QR code allows you to track every step of your shirt's making
Note: Naturally dyed clothing may fade faster than synthetically dyed clothing. We recommend washing with a mild detergent by hand or on the delicate setting of your washing machine.
Click here for sizing information.
T-Shirt Sizing
All Solid State shirts are at least 99% preshrunk, so our shirts will fit closer to spec every time. The tolerance for each measurement below is only ± ¾"
Fit M (Men's/Unisex) - Short Sleeve

| | Width | Length |
| --- | --- | --- |
| S | 18 ½" | 26 ½" |
| M | 20" | 27 ½" |
| L | 22" | 28 ½" |
| XL | 24" | 29 ½" |
| XXL | 26" | 30 ½" |
Fit M (Men's/Unisex) - Long Sleeve

| | Width | Length | Sleeve |
| --- | --- | --- | --- |
| S | 18 ½" | 26 ½" | 24 ½" |
| M | 20" | 27 ½" | 24 ⅞" |
| L | 22" | 28 ½" | 25 ¼" |
| XL | 24" | 29 ½" | 25 ⅝" |
| XXL | 26" | 30 ½" | 26" |
Fit F (Women's) - Short Sleeve

| | Width | Length |
| --- | --- | --- |
| S | 18" | 25 ⅝" |
| M | 19" | 26 ¼" |
| L | 20 ½" | 26 ⅞" |
| XL | 21 ½" | 27 ½" |
| XXL | 22 ½" | 28 ⅛" |